Not a bad first month of work.  Headed down South on Friday 20th to Oakham to do a Valve clearance check/adjust then headed further down to Essex after that for more work the next day.  Saturday 21st consisted of an Annual service on an Explorer, 2 annual services on Tiger 800's and also fitting a set of Fog Lights to one of them. After the 3 jobs in Essex I then went over to Slough, near Heathrow airport, to fit some lowering links to a Tiger 800 and also remove the secondary air injection system from a Bonneville.
Sunday 22nd I had a day off and went to the Ace Cafe in London where there was an Overland and Adventure event happening. I was there for a couple of hours, left some business cards tucked in some Triumph's seats, did you find one in yours? Then it was off to West Sussex, after a quick visit to GoOutdoors for a warmer sleeping bag, for more work the next couple of days.
Monday 23rd was a 6k service and brake fluid change on a Tiger 800 then a little further up the road, still in West Sussex, on the 24th for a 24k service on another Tiger 800.
Wednesday 25th was the final day of the trip with a 12k service including brake fluid and coolant change in Norfolk on another Tiger 800.  I think Norfolk was designed by a biker, the roads all around are smooth tarmac with long sweeping corners.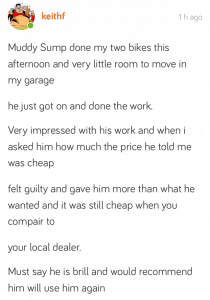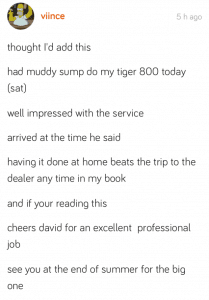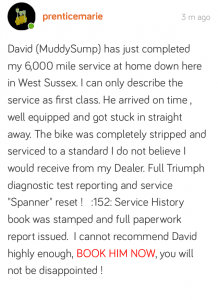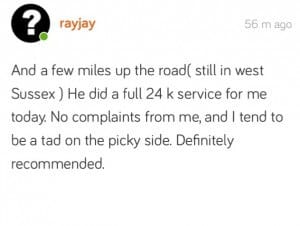 Shim box is restocked now ready to go again.
| | | | | | |
| --- | --- | --- | --- | --- | --- |
| 2015 totals | Annual | 6/18K | 12K | 24K | Valve check |
| Tiger 800 | 2 | 2 | 2 | 1 | 1 |
| Tiger Explorer | 1 | | | | |